Central Air Force Museum Tour to Monino in English by Angel Tour: +7 (926) 435 8687, +79-ANGEL-TOUR
The Central Air Force Museum in Monino is located at the site of former Monino airfield.
One of the entrances to our native town is 'guarded' by a SU-27. This SU-27 was presented by Vladimir Fortov, President of Russian Academy of Sciences (native of our town). There is another world-first landmark in the town which our tourists visit when they take tours to Suzdal and Vladimir.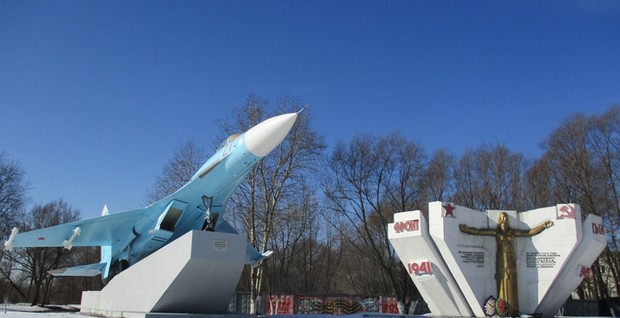 Soviet pilots liked to compare aircraft to birds (e.g. 'White Swan' nickname was given to TU-160) and called SU-27 a Crane, which, along with dove, was one of the symbols of peace in the USSR.
If you want to book (or ask for a quote for) The Central Air Force Museum tour in Monino with an English-speaking guide, please write via 'this page' your name, email, hotel pick-up address and number of visitors so that we could calculate the price for Monino Airforce Museum Tour or book via Moscow Tour page with the same info, or call/viber/whatsapp via + 79-ANGEL-TOUR or +7 (926) 435 86 87. For any FAQ re Monino Central Airforce Museum Tour from Americas call us 24/7 via +1(347)741-8687 or +1(347)741-TOUR.
Central Airforce Museum tour in 2017
Central Airforce Museum in Monino is one of the world's largest aviation museums, and the largest for Russian aircraft.
Read what our clients write about the Central Aviation Museum Tour:
Thanks for the tour, it was excellent.
Bogdan, Australia, 13.08.2017
The tour to the Monino airforce museum was very interesting. We were picked up from the hotel and delivered straight to the museum, where Alexander gave us a very informative tour. The airfield is very out of the way so it would be difficult to get there by any other means. I am happy to recommend Angel-taxi. The tour was good and the price reasonable.
Anthony, UK, 12.08.2017
I would like to thank you for your time and patience during my visit to Monino, and also for all the information you passed on.
Alex, UK, 15.07.2017
We were a party of four that booked a tour with Angel Tours Moscow and we could not be more happy! We had Alexander as a guide and he was extremely knowledgeable about air crafts and the history behind them. Alexander is a fantastic guide and very friendly. The Monino Museum is a must for everyone interested in air crafts and engineering. The museum is outdoors and covers the early history to present time, truly an amazing museum, one of the best in the world of it's kind. The driver picked that picked us up at the hotel was excellent and we all agreed that the whole arrangement was really professional. Many thanks to Angel tours and Alexander for a fantastic experience!
Nino, Sweden, 17.05.2017
I sent a booking request through the company's website and was responded to by Alexander within the same day. Alexander ended up arranging my airport transfers and all visits as well as being my guide for the day. The Central Air Forces Museum is a MUST for anyone interested in aircraft - some truly great examples of Russian/Soviet aircraft development with a nice touch of Russian perspective and history provided by Alexander.
Peter, Adelaide, Australia
We booked Central Airforce Museum tour with Alexander of Angel Tours Moscow, very much at the last minute, and I am so glad we did. As a pilot and a writer with an interest in historical aircraft, I was very keen to visit the Central Air Force Museum at Monino when I found myself making a sudden trip to Moscow, as I knew that this museum is living on borrowed time - it was scheduled to close last July. Satisfied customers suggested getting in touch with Angel Tours. I booked the visit 24 hours before we turned up - Alexander arranged for us to be met at the train station on our arrival in Moscow, somehow managed to get our hotel to give us an early check-in (a thing we hadn't even succeeding in arranging ourselves!), and transported us to and from the museum - a good 2-hours' drive (and back) outside the city, made slow due to construction and traffic. We must have spent three hours or so at the museum itself - we had an extensive tour with a former Soviet Air Force colonel, with Alexander ably translating Russian to English for us - both men had a wealth of knowledge to share about the aircraft and the history of aviation in Russia, and there's no way we would have learned as much without the tour. It was a fantastic day out, a rare opportunity to examine an unsurpassed collection of historic aircraft, and well worth the reasonable fee charged. Highly recommended - and with gratitude!
Central Airforce Museum Tour review by Elizabeth, UK
Super visit to Monino. We had asked Alexander of Angel Taxi to organize a custom, all-day tour to the Central Air Forces museum in Monino my son and I had been planning for a long time. Our expectations were high but Angel Taxi met them in full. They picked us up at the hotel in Moscow early and we arrived at the museum as it was opening its doors. We stayed until closing time. Alexander accompanied us throughout the visit and proved to be a very knowledgeable guide. He had also arranged for a retired senior Air Force pilot to join us for a couple of hours and give us an insight of what it was to develop and fly some of the aircraft on display. Fascinating stuff! It was a very warm day but Alexander had been thoughtful enough to bring bottles of cold water with him. We really appreciated the attention. At the end of our visit, Alexander drove us back safely to our hotel, after a truly memorable day. We will look no further than Angel Taxi for our future needs for transportation in Moscow (or other cities where Angel operates). They really offer superb service at a fair price and do go the extra mile to please their clients. Well done!
Central Airforce Museum Tour review by Guy and Nicolas, Washington DC, USA
Amazing Aviation History. We were in Moscow for two days and I had always heard through aviation circles that the Monino museum was worth visiting. Most of my enquiry at the hotel desk remained unanswered other than it was a way out of town. After much searching the net I came up with an email address for Angel taxis and sent a short notice hopeful email. Alexander immediately responded and a very useful dialogue started even including weather advice, culminating in my family and I being picked up from our hotel the next day, driven to Monino and given a guided tour. Alexander at Angel is a miracle worker, he knows so much about Russian aviation history and the whole experience went as smooth as clockwork. Very impressive indeed. The museum itself is stunning and is a mandatory visit for any aviators or enthusiasts.
Central Airforce Museum Tour Review by Bruce, Canada
Superb Tour of Soviet Era Aircraft. Superb tour and service. On time and knowledgeable. Monino is a fascinating place to visit and my guide, Alexander was not just knowledgeable about there aircraft, he is also a great supporter of the museum and the Monino area, as he lives locally. I would recommend this tour very much, particularly as the museum is under threat of closure at the time of visiting.
Central Airforce Museum Tour Review by James, Cambridgeshire, UK
I went to Monino in October 2013. Alexander arranged for transportation from Moscow to Monino and back. The tour was excellent and he was quite informative. I had as much time as I needed to examine the aircraft and tour the hangars. A wonderful day visiting a place that I have wanted to visit for many years. I would reccommend the services that I received to anyone contemplating a trip to Monino.
Steve Walter, aviation photographer, US. Steve makes aircraft photos much better than we did (below). He makes them art.
If you are interested in Russian Airplanes, Monino Museum is definitively a must when visiting Moscow!!! The museum is huge and you could spend a few hours trying to see it all. There are plenty of Russian fighters (MiG 29 and Sukhoi 27), bombers (TU-95) and Helicopters (the giant Mi-Mil-26). It's a bit outside of Moscow and getting there seems a little bit difficult, especially if you neither understand cyrillic alphabet nor speak Russian (my case). That's why I decided to search for guided tours and found ANGEL-TOUR, I sent an email and Alexander replied to me with all the information needed. He knows very well the Museum, airplane's history and some anecdotes that makes the visit an enjoyable experience. If you are planning to visit the Museum, I highly recommend Alexander as your guide to this awesome place!!
Temoc, Mexico
I have always been an aviation fan, and when the opportunity came to travel to Moscow, I did some research on the aviation museums in Russia. The name Monino Air Force came up. Since I can't speak Russian, the idea of taking a guided tour to the Airforce museum became a good option.
I started looking for tours and I came up with Angel´s website. I wrote to Alexander and got a quick and very helpful response. The day of the tour there was a taxi at the hotels door at 830am waiting for me. It takes some time to get to the museum, since it is outside the city, some 50 kms.
The visit starts indoors, with some exhibitions explaining the beginnings of Russian aviation, as well as some information on the fathers of Russian aviation. All the information is in Russian, but Alexander explained everything in a very detailed way.
Once the indoors part ends you go outside to the main exhibition. There are a lot of very interesting planes and helicopters, unique pieces, I would say. All of them have very interesting stories, among the highlights I would consider the first passenger ready TU-144, supersonic plane number 77106. Or the world's biggest helicopter, the V-12, a helicopter that looks more like an airplane´s fuselage with two massive 35m rotors attached to it.
There are fighter planes like Mig-29´s, Mig-15, Mig-31, Su-34, Su-27, cargo planes like the An-22 and passenger planes, some of them with a history, like the plane that took Nikita Khrushchev on his trip to the US back in 1959.
Once outside there is also another hangar filled only with experimental planes, and in there you can see some interesting things, like a scale Soviet Shuttle "Buran" that was used on some atmospheric tests.
Sadly, not everything is perfect in the museum; there are a couple of sad notes. The planes are outside, and the Russian weather has not been very kind to them, especially to the ones that were originally painted white. There are not a lot of visitors in the museum, as its existence is little known.
Gustavo, Mexico
That is why Angel Tour promotes the Central Airforce Museum tour to its clients (Alexander, Angel Tour)
I was interested to see the aviation museum in Monino. Since I had a short time to spare I sought advice from angel tours. They were very helpful, replying to my email query almost immediately giving all the relevant information and prices.
Alexander joined me, a very educated and nice gentleman and he custom tailored a very informative tour of the park with all the information I was looking for.
I can definitely recommend the services of angel tours and I will look for them on my next visit to Moscow since they offer lots of different and interesting activities.
Once again thank you Alexander and thank you Angel.
Thomas J., B777 Captain
Dear Alexander, We are now back in Kinshasa... Thank you for the tour to the Central Airforce Museum in Monino, an amazing place that we strongly recommend for anybody interested in aviation or just curious!
Best regards, Jean-Michel & Serge, Congo
MAKS aviation and airspace airshow takes place in Moscow every odd year. See photos you can take yourself if you book transfers to MAKS 2017 with Angel
See other tours in Moscow we offer
Monino Central Air Force Museum Tour landmarks

The Central Airforce Museum tour features aircraft, aircraft models, uniforms, and other items. There are 173 aircraft (including civil aircraft) and 127 aircraft engines are on display in Monino.
Though the museum is very interesting for sightseeing and very well organized (much better then a few decades ago) there are very few visitors. Similar museums elsewhere are usually haunted by crowds of visitors. That is why Angel promotes the Monino Central Airforce Museum tour amongst its clients all over of the world.
Below are only a small part of what you can see during the Central Airforce Museum Tour
Sopwith at Central Air Force Museum in Monino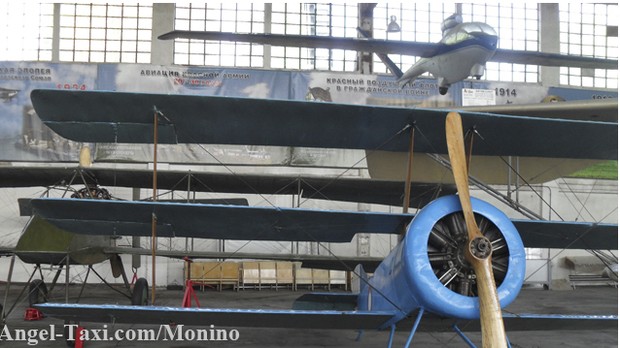 Voisin at Central Air Force Museum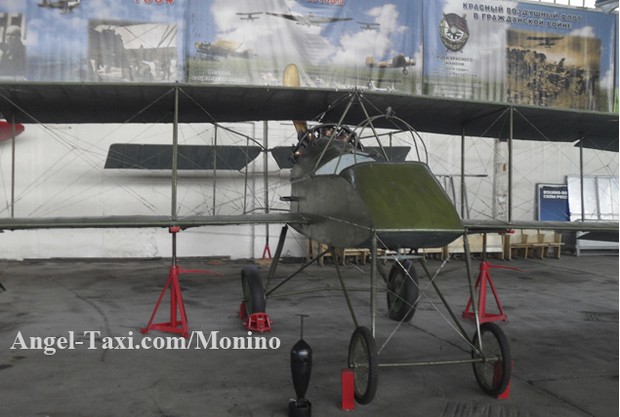 Farman IV at Central Air Force Museum

ANT-2, the first all-metal aircraft in Russia, at Central Air Force Museum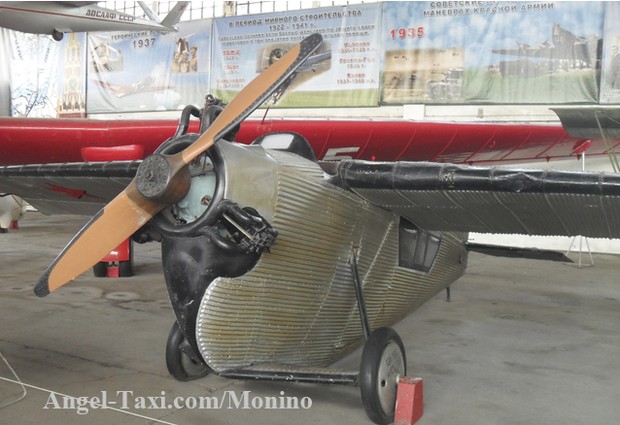 ANT - 25 (RD) at Central Air Force Museum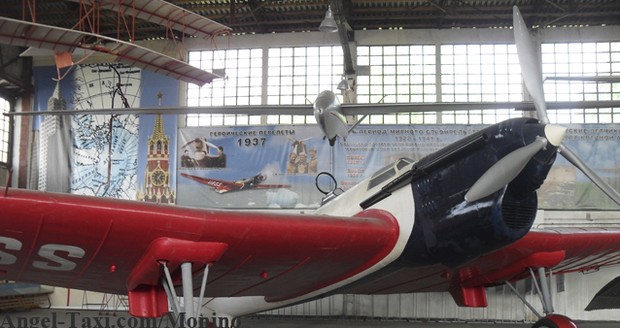 PO – 2 at Central Air Force Museum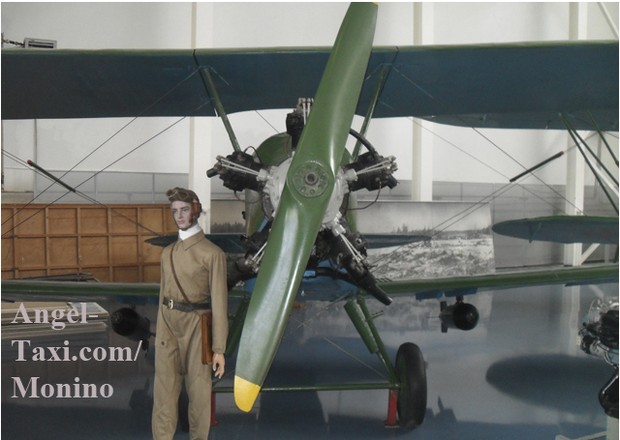 3M Strategic Bomber (Bison) at Central Air Force Museum

SU 100 Central Air Force Museum

M – 50 Strategic Missile Carrier (Bounder) at Central Air Force Museum
Camera to make pictures is a must-have while visiting the Monino museum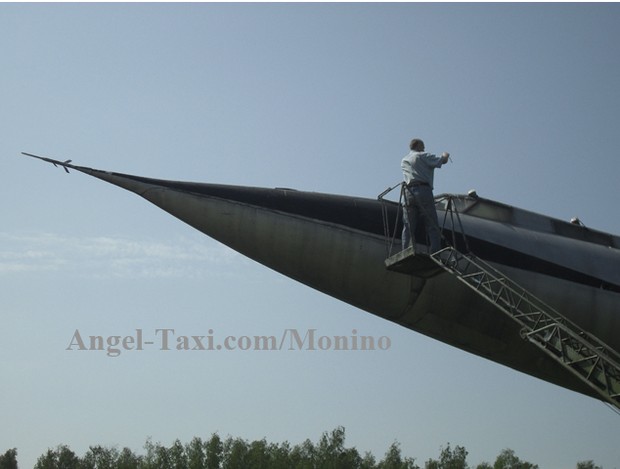 MIG and SU Fighters at Central Air Force Museum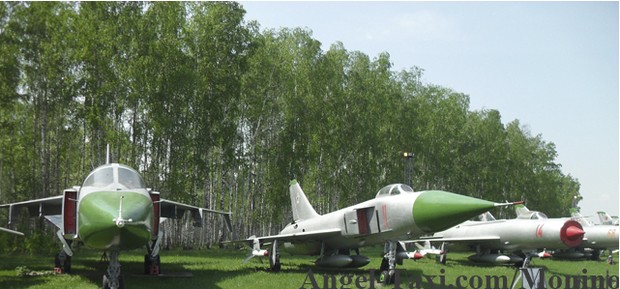 Su–11 Fighter – Interceptor (Fishpot) at Central Air Force Museum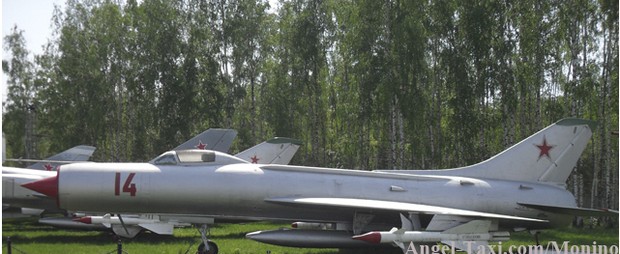 Su – 15 Fighter – Interceptor (Flagon) at Central Air Force Museum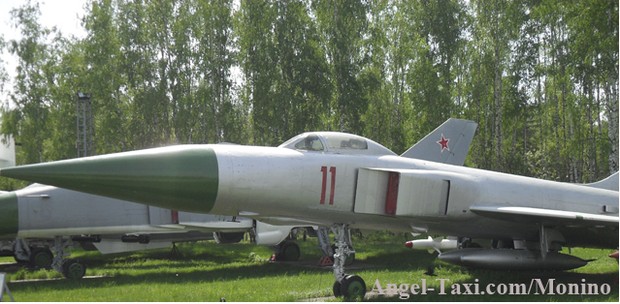 Su – 24 Front Bomber (Fencer) at Central Air Force Museum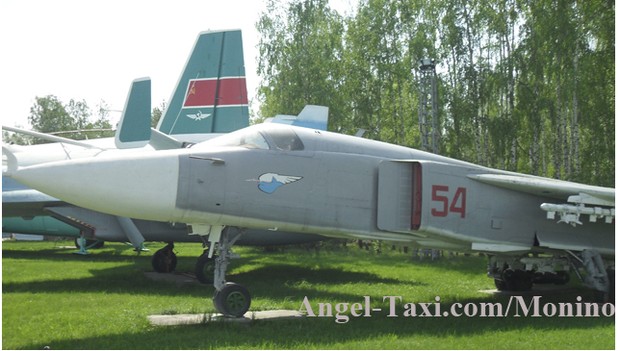 HELICOPTERS at Central Air Force Museum
Mi-12 at Central Air Force Museum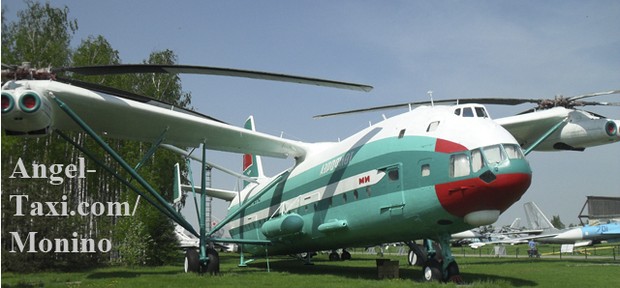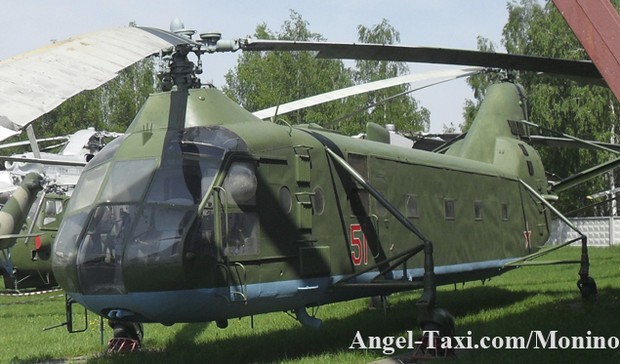 A PROPOS
Quite a many of the aircraft are still in use. The reason is their outstanding aerodynamics ('born to fly'). These cement blocks on the top of the aircraft are there to make sure they don't take off on their own.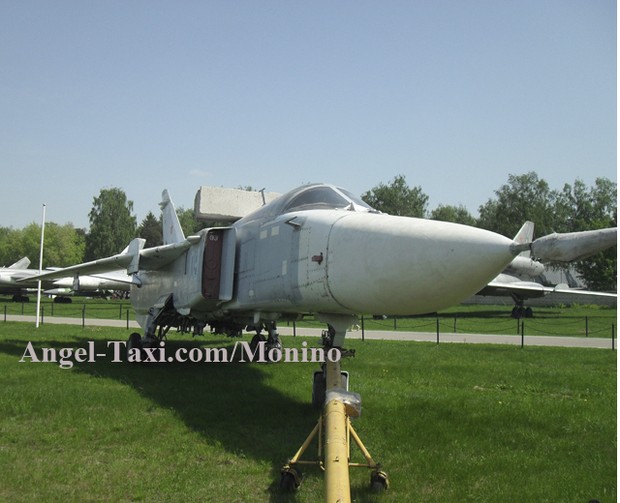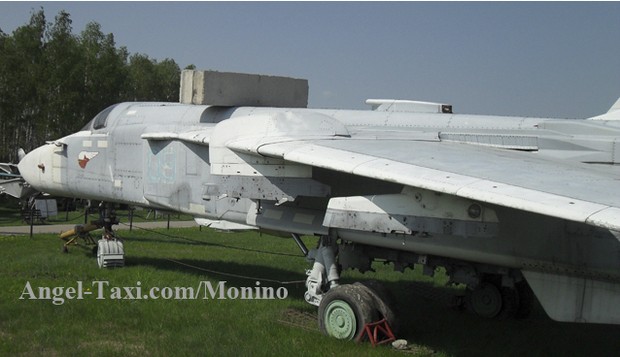 Le Tatlin – 'a Flying Man'
The Cental Airforce Museum opened in Monino in 1958. And this craft was one of the first exhibits in Monino Museum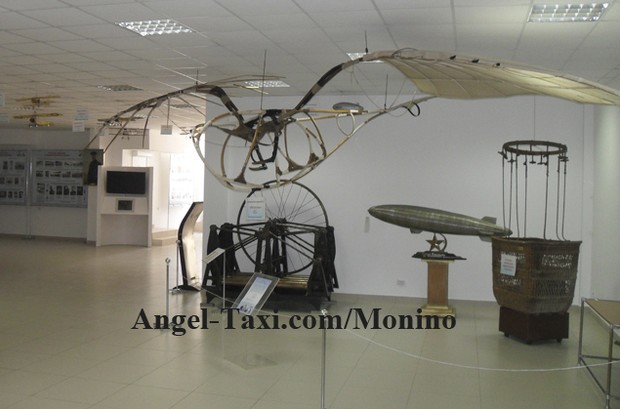 Generations of other Soviet school children built aircraft models like this ...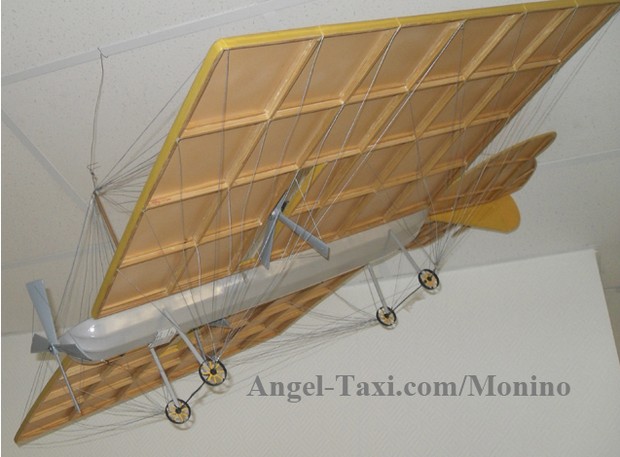 or like this and launched them to fly...
'Volga' gondola at Central Air Force Museum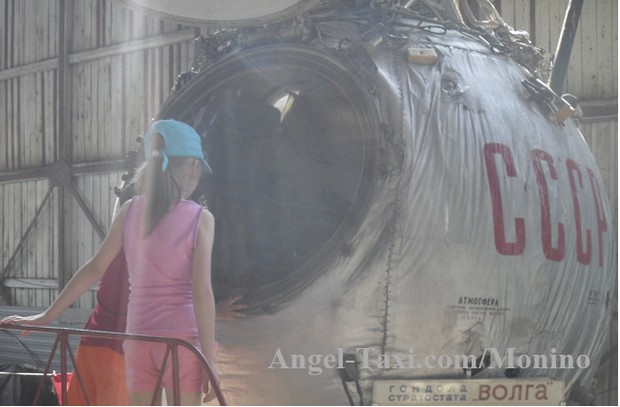 The Central Airforce Museum tour features a couple of machine guns to see. If you want to hold or shoot various guns or submachine guns of WWII, dressed accordingly, or have a ride in military armoured vehicles, let us know and we'll arrange.
Central Air Force Museum Open Day, 21.08.2016
Below are a few photos about the Open Day at Central Airforce Museum on August 21, 2016. The event was dedicated to the Russian Airforce Day.
It could be the last Open Day of the whole collection of the museum as Russia's MoD is considering full or partial relocation of the collection. Please sign our petition to save the collection where it belongs to - Monino, the place from which 733 Heroes, 44 Double Heroes and 1 Triple Hero of the USSR come from.